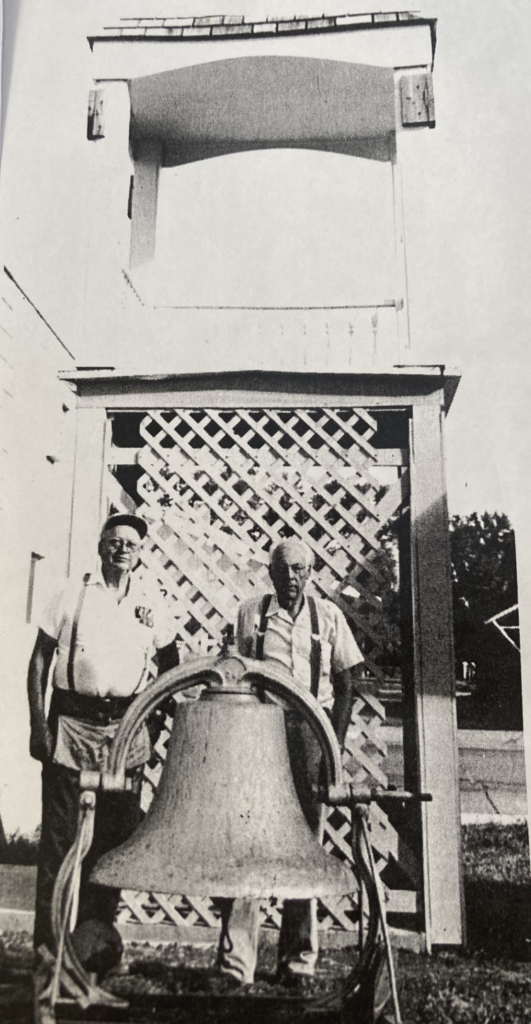 A Historical Bell Rings Home
Museum Notes By Marilyn Thomas Stone
Do you remember when the museum had a large steel bell outdoors. Well, that bell came from, and was eventually returned to Fort Randall area. There are several items in the museum telling about it. The basic story is that the fort was established in 1856 and was headquarters to several regiments until 1892. As the area grew with both soldiers and civilians, a need for a public building was perceived. Thus in 1875 the local Odd Fellow Lodge had a building built out of the local chalk rock building blocks, on the west side of the Missouri River. The back part of the building was used as a lodge hall, and the front was designated as a public meeting place. Since there was no church in the fort, the various denominations held their services in the public room. The building included a bell tower with a winding staircase and a large steel bell that could be rung to call people to meetings.
The Fort was abandoned by July 1892. The fort was left with a discharged soldier named McLaughlin, as the civilian employee caretaker. Most of the buildings were dismantled, sold to settlers, and removed. Whenever he was away, some of the people in the vicinity would come in and take what they wanted, including windows and doors from the buildings. Eventually the federal authorities became convinced of the futility of preserving the property and ordered it to be abandoned. Then Mr. McLaughlin sent word to the Odd Fellow Lodge in Springfield that they could have the bell from the meeting house if they would come to get it.
Oran Truesdell was sent with a team and wagon to bring the bell to Springfield. Here it was mounted in a small tower on top of the original City Hall which faced Chestnut St. in front of the water tower. After the new City Hall was built, that building became the Museum until the weather caused its deterioration.
When the bowling alley was converted to the museum, Clark Thomas and Delbert Fitzler built a stand next to the museum to house the bell in it's short tower the had been removed from the top of the City Hall Museum.
In 2003 the U.S. Army Corps of Engineers and historical societies near Fort Randall worked to restore the historical Fort Randall facilities. They contacted the Museum Board in Springfield and convinced them that the bell should be returned to its home in Fort Randall. Thus in the summer of 2004 Springfield said "Farewell" to the bell we had housed since 1896. If you visit Fort Randall be sure to look for the bell. Meanwhile come to Springfield Museum to see many other historical items any Sunday afternoon from 2 to 4. See you at the Museum!