Thank you!
By Marilyn Thomas Stone, President Springfield Historical Society
Special THANK YOU to all who attended, and all who donated baked goods to our fund raising Bake Sale, or purchased raffle tickets on Saturday. We hope everyone enjoyed seeing the museum exhibits and visiting with neighbors. This day is always a highlight of our year as we share the displays with our friends and neighbors. We had 65 folks who signed the guest book. The attached photo shows Connie Sorensen welcoming visitors.
Many people purchased baked goods or tickets for the quilt raffle. We also enlisted new Life Memberships of 5 more people (plus 5 who signed up in May). We were so busy visiting and showing folks around the museum that I forgot to take any photos of the event until 11:00 when there were only these 3 baked goods left! Everything was sold by 11:20! The winner of the quilt is Beth Schneider. She lives in Huron, but grew up in Springfield as daughter of Merle and Eleanor Toyne. She has a nearly 3 year old grandson, Grayson Schneider, who I expect will make good use of the quilt!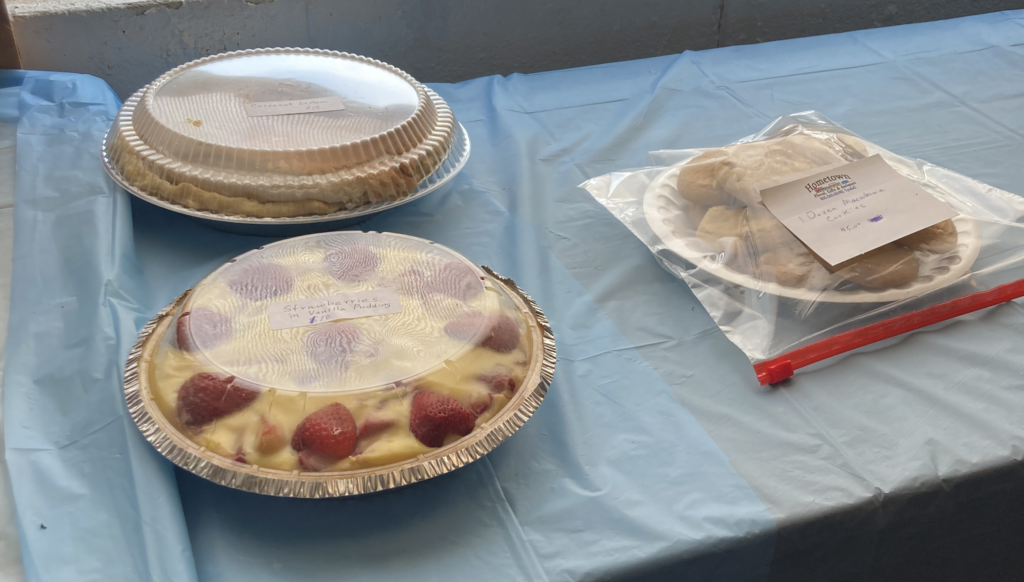 Following the quilt drawing, the museum board members met to officially elect Scott Kostal to the museum board as a member-at-large, and welcome him to our board. We are continuing to work on the project of repair and protection of the building walls. Do come again any Sunday afternoon between 2:00 and 4:00, or any day by appointment.
One more reminder to keep saving your aluminum cans and dropping them off in the "ticket booth" outside the front of the museums. Matt and Gene took in 800 pounds of aluminum on Saturday which was collected in the last 10 weeks. Cans can be crushed to make it possible to load more onto the trailer, or left whole if that's easier for you to handle. Either way "keep them coming" and we'll see you at the Museum.